Susie Thomson
susie.thomson@securitywatchdog.org.uk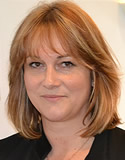 Susie is Managing Director of Matrix Security Watchdog (MSW), having founded the original risk mitigation business with her family in 1998. She has over 35 years of experience in risk mitigation, due diligence and background checking. Security Watchdog sold to Capita plc in 2012 and was sold to Matrix, a UK workforce management solutions provider, in 2023. Susie continues to oversee the strategic direction of MSW within the broader Matrix business and drives growth into new regions.
She is passionate about developing great colleagues. Susie has over 3 years' experience participating in PBSA activities, initially as Europe Council Chair, and now on the PBSA Board. She is also involved in the Diversity and Inclusion Advisory Group as Board Liaison. Her experience in working in a start up as well as for one of the largest UK PLCs has provided her with an understanding of both environments and the importance of D & I in the workspace.
Susie holds a degree in modern languages from The University of Exeter, UK, as well as German and UK nationality.