Kelly Uebel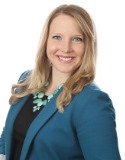 Kelly Uebel, General Counsel for Asurint, joined the screening industry in 2011 following several years working in the electronic discovery, computer forensics and data recovery space. In her current role, Kelly oversees the teams responsible for counseling staff on legal and regulatory risks and requirements. This includes providing subject matter expertise, and monitoring and evaluating proposed and existing laws and regulations from the local, state, federal and international level that impact background screening.
In addition to her role at Asurint, Kelly serves on the Board of Directors for the National Association of Professional Background Screeners (PBSA). In this capacity, Kelly also acts as the Board Liaison to the Government Relations Committee where she previously served as co-chair from 2015-2017.
Previously, Kelly worked as General Counsel for Info Cubic, Legal Counsel – Global Regulatory Affairs for First Advantage and as a Compliance Officer focused on domestic and international screening issues for Verifications, Inc.
Kelly holds a law degree from William Mitchell College of Law, received her Bachelor of Arts in Political Science (with a concentration on law and politics) and a Minor in Management from the University of Minnesota, Twin Cities and is admitted to the Minnesota bar.