Todd Higey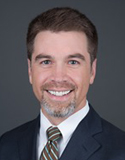 General Counsel
Employment Screening Services, Inc. – AL
Provide a short summary of your background, affiliations and experience as they pertain to the work of PBSA.
I have been practicing law for more than two decades, the last five years of which I have served as in-house legal counsel for a consumer reporting agency. I believe it was in 2015 that I began serving as a member of the Government Relations committee. I was a founding member of what was then called the Accuracy and Access subcommittee. And in 2017, I volunteered to serve as chairperson of the PACER Task Force. Advocacy being a passion of mine, I have participated in Capitol Hill advocacy days for the last three or four years. (In my prior life, I engaged in Capitol Hill advocacy for my local SHRM chapter.
From your perspective, what are the three most important priorities that PBSA should pursue during the next two years?
First, we should renew our effort to secure bipartisan support for legislation harmonizing FCRA with other consumer protection statutes by imposing a cap on class-action damages. In a recent class action settlement involving a New York employer, the attorneys' fees awarded were greater than the total amount awarded to the class members in the aggregate. It could be argued that, in some situations, these class action suits against employers and CRAs verge on the extortionate. In terms of sheer litigation, it is our employer-clients who are being harmed by this inconsistency between FCRA and other consumer protection statutes.
Second, as an industry, we should explore ways to develop a coordinated defense against the contention that wholesalers and public record researchers are consumer reporting agencies. They are not. But if the courts conclude they are, it could quite possibly become an existential threat to the industry. To the extent it is not already doing so, PBSA could support a proper interpretation of FCRA on this issue by filing amicus briefs in litigation, and by advocating for legislative or regulatory relief.
Third, we should continue to advance our cause for the enhancement of and improvement to PACER in particular, and public court records in general. Our end user customers are suffering from the unfortunate convergence of the accuracy requirement in FCRA and the paucity of identifiers in PACER. If we are successful in obtaining the inclusion of identifiers in PACER, our customers throughout the nation will benefit.
How do you see your contribution on the Board for realizing these priorities?
As a member of the Board, I would be happy to bring my experience in advocacy, regulatory compliance and litigation to bear for the benefit of advancing the causes identified by the Board.
What is your long-term vision for PBSA's impact on the background screening industry?
PBSA can accomplish collectively what we cannot do individually and this, perhaps, can be the greatest and best benefit to the background screening industry. For most employers, and for many landlords, background checks are now an essential component to evaluating their employees and tenants. An ethical, healthy industry is critical to providing this service to our customers. We can achieve widespread ethical screening by promoting and expanding voluntary accreditation. We can ensure the health of the industry by advocating for reasonable legislation that maintains an appropriate balance between the rights of the consumer and the rights of ethical screening companies. Finally, PBSA needs to continue its campaign to educate and inform the public about the good that we do. Currently, there are ideologically driven public policy groups that oppose background screening, and they wish to curtail the ability of our customers to do so. As a collective group, we can counter misinformation and misimpressions.