Noelle Harling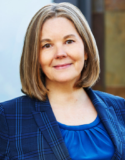 Vice President
Frasco Profiles
Provide a short summary of your background, affiliations and experience as they pertain to the work of PBSA.
I have been involved in pre-employment screening since 1995, and have been involved with PBSA since its inception. My first formal role with the association was Chair of the Ethics and Accreditation Committee, a diverse and passionate group of business owners, executives, and attorneys from more than thirty different companies. As Chair, I was responsible for guiding this group through the process of drafting the Association's Member Code of Conduct and for creating the industry's first-ever accreditation program – known today as the BSAAP. When our first group of CRAs passed their audit and received their Accreditation, I was presented a Distinguished Service Award for Meritorious Service to the Association for my leadership in developing the accreditation program. Since those early days, I have also held a Regular Board of Director's position and an Officer's position, Chaired the BSCC, been a member of the Ethics Committee, a BSCC Appeals Council participant, and have assisted the Government Relations California Task Force by meeting with Court executives on behalf of the Association.
From your perspective, what are the three most important priorities that PBSA should pursue during the next two years?
Timely and affordable public records access – and in particular access to identifiers – will always be a top priority for the association, as it is fundamental to the sustained existence of our industry. Another top priority is mitigating the continuing development of localized Ban the Box, Fair Chance, and Privacy legislation and steering instead toward a federal framework that is both appropriately protective to consumers and business friendly to CRAs and employers. While there are many other significant priorities, I think my third priority would be to ensure strong financial oversight of the Association, strategic allocation of resources, and safeguarding the long term financial security of the organization.
How do you see your contribution on the Board for realizing these priorities?
I am extremely comfortable working with public policy and policy makers, especially those with divergent and even hostile opinions. I would like to work closely with our lobbyists and committee members to continue to bridge knowledge gaps through calls, meetings, educational pieces and events that help inform both elected officials and the public at large about our industry and the deep protective laws already in place so we can avoid further reactive legislation. I have over twenty years experience in financial oversight, policy and procedure development and small and large group facilitation and sincerely enjoy collaborating on both short term and long range projects.
What is your long-term vision for PBSA's impact on the background screening industry?
PBSA's long term impact on the background screening industry can already be seen through the many, many wins we've had with legislators and regulatory agencies. Without the provided organizational structure, and our hundreds of tireless volunteers, there would be no grass roots efforts, no Advocacy Day in D.C., no position papers, no media relations, no Amicus Briefs and no friends at the FTC. It is no doubt to many of us that without PBSA, our industry would not exist today. My long term vision for PBSA is to be the dominant global background screening authority, with strong domestic and international infrastructure, that guarantees the existence, ethical operation and success of our industry for decades to come.