September 2021 Volunteer of the Month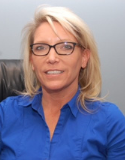 My role at PBSA is
I am currently co-chair of the Government Relations Access Subcommittee. Former co-chair of the Provider Committee
Why I wanted to volunteer with PBSA
I have been in this industry for 25 years and one thing that is certain is change, it is like trying to nail down a moving target. We have evolved from faxing to AI. Being involved with PBSA is essential in staying updated on the industry. Almost every meeting I attend I am learning something. Having the knowledge of what is going on aids me in assisting our clients with educated and informed information. We have some very smart people within PBSA and I have made some lasting friendships and feel honored to be among this crew!
What I do when not at work
I love traveling. We try to go somewhere International (especially to a beach) each year. My favorite so far has been Turks and Caicos. Working out and taking hikes just makes me feel good.

What I'm reading
I am just getting ready to start Think like a Monk by Jay Shetty and/or Dream Big by Bob Goff. I mainly read non-fiction or books that help educate me on a topic of interest.
Favorite blogs
I am not a big blogger but I do enjoy Gary Vaynerchuk.
On my desk right now
(books, personal items, etc.) chapstick (I am addicted), glasses, squeezy stress ball, lots of notes and paper, conference speaker and believe it or not my itinerary for travel to the next PBSA conference.