September 2020 Volunteer of the Month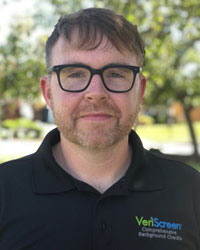 Jeremy Hix
Vice President of Market Development
VeriScreen
My role at PBSA is
I currently serve on the COVID taskforce, SC taskforce, and access subcommittee.
Why I wanted to volunteer with PBSA
After witnessing all the good the organization does for the industry, consumers, and companies on so many levels, I felt I had to contribute my passion for background screening and knowledge of the courts to the PBSA.
What I do when not at work
When I am not at work I enjoy hanging out with my 3 girls. They are my rock and I probably learn the most about being a kind person no matter the situation watching my 3 year old interact with all the different species of critters in the great outdoors. I strive to be like her every day.
What I'm reading
Currently I am reading Unlimited Power by Anthony Robbins.
Favorite blogs
I do not blog but I do enjoy podcasts. One of my favorites is Armchair Expert with Dax Shepard.
On my desk right now
Currently my desk contains every color sticky note that exists on this planet as well as pictures of my family, Sonos speaker, 2 bottles of hand sanitizer, baby Yoda, organizer, crumbs from lunch (breakfast too), and 3 half empty bottles of water (yes, I recycle).