September 2016 Volunteer of the Month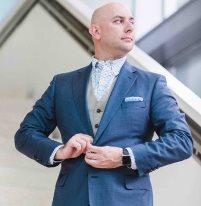 Nat Borsh
Senior Account Executive
SJV & Associates
My role at NAPBS is
Co-Chair of the Provider Advisory Group serving as a forum for Provider Issues and cooperation with Board and Committee lead initiatives.
Why I wanted to volunteer with NAPBS
I had been a member of NAPBS for 5 years prior to volunteering. Leading the Provider Advisory Group was a chance to get involved with peers and colleagues to help play an active role in the movements of the organization and the industry. I highly recommend getting involved at any level, participating on a committee, leading an advisory group, volunteering during the conferences through the ambassador program. It is a great way to meet members of NAPBS and to help the organization grow. It is a wonderful opportunity to familiarize yourself with other members of this fascinating industry.
What I do when not at work
I serve as Secretary for the Bridgeville Public Library Board of Trustees. I am an avid reader and writer and I sponsor several programs to promote childhood literacy. When I'm not suited up, I am a consistently unexceptional golfer during the summer and have recently taken up skiing in the winters.
What I'm reading
I am finishing up 'David and Goliath' by Malcolm Gladwell. The sub-title of the book is, "Underdogs, Misfits, and the Art of Battling Giants." It is an inspirational read that highlights what is commonly predicted may not always be the ultimate outcome and how to utilize what are perceived weaknesses as strengths.
Favorite blogs
Some of the blogs I read are: HRMorning.com, The Sales Lion, and The Harvard Business Review.
On my desk right now (books, personal items, etc.)
A picture of my wife and I in Florence, Italy on our honeymoon earlier this summer. The ever growing stack of plastic hotel key cards that I have accumulated from business trips to visit clients and attend conferences. Well over 100 so far! And on the walls of my office are prints of the paintings featured in the 1999 Pierce Brosnan re-make of 'The Thomas Crown Affair,' my favorite movie.