October 2022 Volunteer of the Month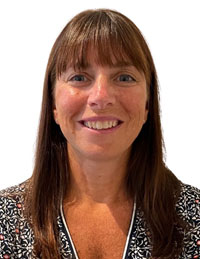 Michelle Leblond
EVP, Compliance and Operations
PlusOne Solutions, Inc.
My role at PBSA:
...is quickly shrinking! I have just completed almost nine years on the Board of Directors, and even longer on the BSCC. I have spent time on the now evolved Global Advisory Council and US Membership Committee, have chaired Canada's GR Committee and been on the Leadership Development Committee. Today, I remain on the Canada Council as Communications Committee Chair and a GR Committee member. I am also the current PBSA Ethics Chair, which is the role assumed by Past Board Chairs. I expect to be actively volunteering again soon with the current Association strategic priorities and am happy to help wherever my time and skills are needed. And if they are not, I will just sit alone and cry until someone gives me a task to do.
Why I wanted to volunteer with PBSA:
I'm a serial volunteer – the kids' school council, lake association, community groups, PBSA, you name it. I am productive with my time and like to be busy, so volunteering helps keep me learning and having fun. I am also one of those people who truly believes you get far more back than what you can ever give by volunteering. The professional experience I have gained speaking, writing, working with others and contributing to a far more diverse range of tasks through PBSA than what I experience at work, (which is varied on its own). There are so many awesome people I have been able to volunteer with that the people have been a huge piece of me continuing to give. I just want to keep being with them and making progress together. I like knowing I can make a difference and giving back to the profession that has been my whole life – over 27 years and counting!
What I do when not at work:
I like to run, have done several half marathons (but cannot see moving to a marathon and spending four hours just running), spend time with my family (hubs, one boy and one girl, and Bodhi the dog), enjoy time at our cottage, as well as nap. I really like naps.
What I'm reading:
I read a lot – nothing too serious right now but I love a good novel and I can go through two or three on a summer weekend. We built a little library at the cottage and I regularly use two in the town where we live. I love the concept and diversity of what is there. I am also at a point in my life that, if I do not like a book in the first few chapters, I do not continue. It doesn't happen too often but there are some really bad books out there and I won't waste time with them anymore.
Favorite website, podcast, blog, etc.:
I have varied interests – regular podcasts I listen to are "The Daily," "Crime Junkie," and "Smartless" to name a few. I am always open to more crime-related podcasts, so pass any suggestions along you may have. I also monitor legal and compliance blogs for work just to make sure I stay smart.
On my desk right now:
My Echo Show (for music and the time), my to-do list and, not too far away, are pictures of kids and fam. Most importantly is what is under my desk keeping me company – Sir Bodhi Blue – our two-year-old blue heeler pup who will nap as easily as he'll run like the wind. I don't like clutter and keep my desk neat so I can focus on the task I am doing. Everything else stays out of the way.