October 2021 Volunteer of the Month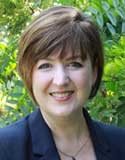 Jamie Pelchat
Vice President of Compliance
HireRight
My role at PBSA is
I am currently co-chair of the Industry Practices committee and serve on the US Council.
Why I wanted to volunteer with PBSA
I have observed as well as benefited from the great work being done by PBSA, and I have always been impressed with the other volunteers who are so passionate about the background screening industry. I truly wanted to give back and contribute in whatever way I could in hopes that it may be helpful to others.
What I do when not at work
I love getting out on the water and sailing my Catalina 250, traveling, and -- I know it's weird -- but working in my yard.

What I'm reading
The Fire Maker by Peter May.
Favorite blogs
Mostly sailing and native plants stuff.
On my desk right now
Coffee, yesterday's water bottle, a large paper calendar with scribbles all over it, notepads of to-do lists, and the FCRA booklet of course!