November 2023 Volunteer of the Month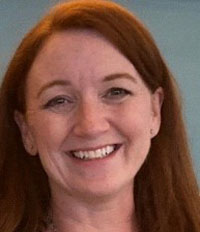 Nancy Byrne
Director, Strategic Partnerships, Governance & Growth
iCover
My role at PBSA:
Nancy is a long-time member of the Educational Resource Committee – the committee that selects education for the US conferences and webinars.
Why I wanted to volunteer with PBSA:
My volunteerism at PBSA was spurred by a desire to enrich my knowledge, make connections with like-minded professionals, and collaborate on ways to help globalize the organization.
What I'm reading:
I'm reading the book "Quiet: The Power of Introverts in a World that can't Stop Talking" by Susan Cain which is quite validating, highly recommended for those who appreciate the "Cult of Character".
On my desk right now (books, personal items, etc.):
On my desk is an airplane shaped clock, my passport, a cup from a colleague in Normandy, a spray bottle of rose water from Bulgaria (recommended by PBSA fellow volunteer), a Frida Kahlo doll from a colleague in Mexico and a flamingo painting from a former colleague in the UK.