November 2020 Volunteer of the Month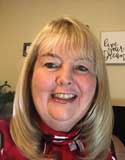 Nancy Alt
Managing Principal
Tweak the Core, LLC
My role at PBSA is
I recently served as the chair of the Background Screening Credentialing Council and currently actively participate on the Industry Practices Committee, Government Relations Committee, and Access Subcommittee.
Why I wanted to volunteer with PBSA
I started volunteering with PBSA 6 years ago to get more involved in the industry and expand my horizons. It has been an incredible experience, as I have met some great people, have been able to collaborate with many on projects, and have learned a lot.
What I do when not at work
I workout at the gym, go to concerts, socialize with friends, go to plays, and travel. I love being active and social; however, much of this has been tempered by Covid---but I'm looking forward to us figuring it all out and getting back out there.
What I'm reading
In Pursuit of Weightlessness—Tom Fazio, and Here Comes the Sun, the spiritual and musical journey of George Harrison—Joshua Greene. I like fiction and autobiographies---don't want anything heavy—as I read compliance documents all day!
On my desk right now
Cup of tea, cup of water, and paperwork. I know --- boring.