November 2016 Volunteer of the Month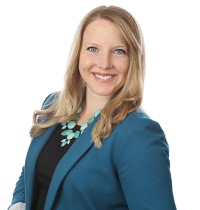 Kelly Uebel, Esq.
General Counsel
Info Cubic Employment Screening
My role at NAPBS is
My primary role with NAPBS is Co-Chair of the Government Relations Committee. The Government Relations Committee works hard to track and respond to legislation and regulatory activity that impacts the membership. This year we formed a new subcommittee focused on public records access and accuracy that is working to address one of the major concerns we all have – timely and complete access to those all-important court record identifiers. The Government Relations Committee also works to develop and strengthen relationships with key regulators and organizations. To that end, I also participate in the newly formed Advocacy Committee. In addition, I previously participated in the International Committee and try to help out with the Global Advisory Council in any way I can.
Why I wanted to volunteer with NAPBS
When I joined the industry in November 2011, I was extremely fortunate to work with wonderful, well-respected professionals who actively participated in NAPBS for several years. They encouraged me to get involved and I attended my first NAPBS conference that next spring. I was amazed (and continue to be amazed) by the level of coordination, cooperation and congeniality amongst members which was a major difference from the industry in which I previously worked. Ever since, I have thoroughly enjoyed working with individuals from other CRAs, providers and partners as we accomplish major initiatives that truly impact and benefit us all in the industry. To pass the torch, I encourage all new industry members to get involved in whatever committee strikes a passion as the work we all do actually does make a difference.
What I do when not at work
When not working I try to enjoy as much time with family and friends as possible. Being a Minnesota resident, that includes spending a lot of time outside since we only get about 5 great months a year! That includes going for runs and walks with my husband Brian and our adorable pup Henry, having a refreshing glass of wine on a patio (any patio will do!), spending time at the cabin and hanging out at my parents' pool with family. Now that it's fall, my Sundays – and, let's be honest, Mondays and Thursdays – are spent watching football (Go Pack Go) while pretending to accomplish various house projects.
What I'm reading
Apart from reading various items of legislation that impact our work in the screening industry, I tend to read a variety of different works. Currently I'm reading "The Last of the President's Men" by Bob Woodward which discusses key moments within the Nixon administration through one of his aides, Alexander Butterfield. As a political science junkie, I'm pretty much obsessed with anything related to politics, the presidents and American and World history. On the other side of the spectrum, my guilty pleasure is reading romance novels particularly by Johanna Lindsey. One of these days I'll finish the novel I started writing about 10 years ago!
Favorite blogs
There are a diverse number of blogs I enjoy reading ranging from personal to professional. I actively keep up with the variety of blogs published by those within the industry, but then also read recaps of my favorite shows such as the Bachelorette. Anything sports related, particularly football, I love reading as well.
On my desk right now (books, personal items, etc.)
My office is admittedly pretty boring. I'm mostly surrounded by papers and legislation I need to read and analyze, but I also make space for the ever important coffee mug and pictures of my wonderful family.