May 2021 Volunteer of the Month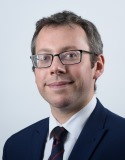 Keith Rosser
Director of Screening & Group Risk Director
Reed Screening
My role at PBSA is
My official roles are Europe Council Member for almost 7 years and I was a previous Europe Council Chair. Currently, I have been chair of PBSA Criminal Records Trade Body since 2018.
Why I wanted to volunteer with PBSA
Within both my day job and outside interests I am on a mission to create a safer world at work here in the UK. That includes safer for work seekers (I Chair a joint UK GOV, law enforcement, and industry charity tackling employment scams, fake jobs, and fraud), safer for workers (I Chair the first UK cross- government committee on worker rights in flexible, casual, agency, non permanent work), and safer for business (I am on the Advisory Board of the UK's Better Hiring Institute - www.betterhiringinstitute.co.uk - which is lobbying and supporting UK Government and industry on better hiring such as digital innovation) which is where I see the work of the PBSA being instrumental in helping businesses protect themselves by setting standards across the screening industry and driving best practice. I received a UK Home Office Commendation for tackling labour market abuse in 2017 and a Commendation for services to the labour market from HM The Queen in 2018.
What I do when not at work
3 daughters all under the age of 6 keep me very busy. That and following cricket, rugby, and football.
What I'm reading
History and literature books namely. Just finished the unauthorised biography of former Prime Minister David Cameron although he is far from popular currently (I started the book before the scandal).
Favorite blogs
Mainly future of work, digital innovation, future of skills, and sports blogs.
On my desk right now
3 daughters and lockdown has played havoc on the workspace. A cuddly toy, drawings of pink unicorns, math worksheets half done, and printed out spreadsheets currently sit on the desk. I will leave readers to decide which are mine.