May 2020 Volunteer of the Month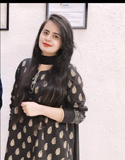 Shania Shoukat
Manager Business Development
ITGS Group
My role at PBSA is
My role with PBSA is Chair of the Education committee with APAC Council committee leadership.
Why I wanted to volunteer with PBSA
I wanted to volunteer because PBSA is such a great platform to gain knowledge and information about the industry. There are multiple opportunities with PBSA, for example: to attend conferences, webinars, informative articles, latest news, trends of the industry, and networking. It gives me great pleasure to be a part of all these activities and connect with all members and leadership, together we can learn more. When we volunteer and work together for PBSA it gives a lot of opportunities to learn and gain knowledge.
What I do when not at work
When I am not at work, I usually watch Netflix. Now a days I am very interested in cooking and learning many recipes.
What I'm reading
Currently I'm reading "Age of Innocence" by Edith Wharton.
Favorite blogs
My favorite blogs are Seth's blog and Marc & Angel.
On my desk right now
I always have my laptop, diary, photo frame with my friends, and some snacks like nuts and chocolates.