March 2021 Volunteer of the Month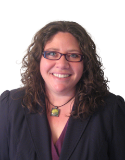 Katie Hartley
Vice President, Client Solutions
Accurate
My role at PBSA is
Current Chair Elect of the Advocacy Committee.
Why I wanted to volunteer with PBSA
Having been a part of this industry since 2002, volunteering with PBSA was an easy decision for me. I have been involved with PBSA since 2004 as an early member of the Communications Committee and chaired that committee for many years. I sort of fell into background screening but have never looked back. I love this industry, really enjoy the people I work with. I have spent most of my career with the organization and have grown up with the people in this Association. It matters to me that we succeed on behalf of our industry, consumers and the organizations we support.
What I do when not at work
I love to travel, especially outside of the U.S. and have been to fortunate to travel all around the world. Live music (especially outdoors), camping, and live sporting events are my favorites also. Although this past year has made much of that difficult.
What I'm reading
Let Us Dream: The Path to a Better Future by Pope Francis – It was his first book in English and came out during the holidays so seemed timely for me. Although I only recently picked it up. I would highly recommend it.
Favorite blogs
Admittingly, don't ready any blogs.
On my desk right now
A scented candle, too much caffeine, not enough water, and a sign that says "Wine a Little, Laugh a Lot".