June 2023 Volunteer of the Month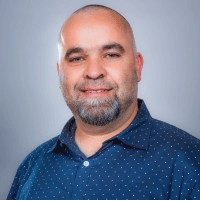 Cody Farzad
Director of Public Records and Client Experience
Reliance Intellicheck Solutions, Inc.
My role at PBSA:
My role has definitely evolved during my time with PBSA. Currently, I'm part of the access sub-committee, and participate every year during Advocacy "Hill Day" at our Mid Year Conference.
Why I wanted to volunteer with PBSA:
I truly saw the vision PBSA had over 16 years ago when I started my journey in the background screening industry, to promote consistency and best practices. Having a very active trade association that allows collaboration of likeminded people is the main reason why I decided to volunteer with PBSA.
What I do when not at work:
I'm blessed to have two wonderful teenagers (16 and 17) that pretty much dictate my schedule when I'm off the clock. I also enjoy my fur babies (English Bulldog and Maltipoo) golf, and a huge sports viewing fan.
What I'm reading:
Dusted off a book I read ages ago titled "All The Things I needed to Learn, I Learned in Kindergarten".
Favorite website, podcast, blogs, etc.:
Big bleacher report guy as it's all things sports, and love a good true crime podcast from time to time.
On my desk right now (books, personal items, etc.):
Pictures of my kids up until the age of about 8 (as we know it's not "cool" to take pics after that), and my daily double espresso shot (over ice) with a splash of Almond milk.