June 2022 Volunteer of the Month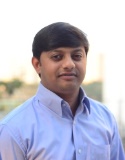 Shakil Gour
Vice President - Operations
Neeyamo Enterprise Solutions Pvt. Ltd
My role at PBSA:
Chair – APAC Chapter
Why I wanted to volunteer with PBSA:
It is a great platform to meet like-minded people and offers learning opportunities. I've also made some great friends when volunteering for PBSA.
What I do when not at work:
I enjoy either hanging out with friends, chilling at home, binge watching TV, or reading a book.
What I'm reading:
Thinking Fast and Slow – Daniel Kahneman
Favorite website, podcast, blogs, etc.:
Harvard Business Review, LinkedIn Learning
On my desk right now (books, personal items, etc.):
Idols of Ganesha & Saraswati and a poster of my favorite actress, Katrina Kaif