June 2021 Volunteer of the Month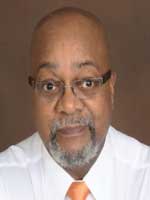 My role at PBSA is
I am a member of the Education Committee and the Diversity and Inclusion Advisory Group. I am the past Co-Chair of the International Committee which morphed into the Global Council where I served as a Global Ambassador for many years.
Why I wanted to volunteer with PBSA
I joined PBSA when it was first formed because I saw it as the commensurate opportunity to network and connect with people in the background screening industry and I still see that as true today
What I do when not at work
When I am not at work I love to watch Sci-Fi movies and to travel.

What I'm reading
I am reading the 'The Road Less Traveled' for the fifth time.
Favorite blogs
None.
On my desk right now
Too many papers and a 'to do' list.