June 2020 Volunteer of the Month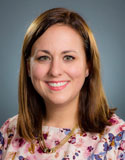 Mallory Oppermann
My role at PBSA is
I am a member of the Educational Resources Committee (ERC), as well as the ERC representative to the US Council Leadership. I am also actively working on the Back to Basics Series Task Force.
Why I wanted to volunteer with PBSA
I wanted to volunteer with PBSA for the opportunity to gain more industry knowledge and get to know the experts in this field. I love to learn new things and volunteering has helped me to branch out. I am very appreciative of the educational opportunities that the PBSA has available for its members and I wanted to be able to contribute and give back where I can.
What I do when not at work
I enjoy spending time with my family - having young kids at home always keeps me busy! We like to kayak in the warmer months and play board games when it's colder. I love being creative and working on craft projects in my free time as well.
What I'm reading
I usually have a few different books in progress at a time. Currently I'm reading 'Dare to Lead' by Brene Brown and 'How to Talk so Kids Will Listen & Listen so Kids Will Talk' by Adele Faber/Elaine Mazlish.
Favorite blogs
I don't have any specific blogs that I follow, however I really enjoy listening to the podcast 'How I Built This'.
On my desk right now
Pictures of my kids and husband, my notebook and to-do list, bottle of water, and hand lotion.