July 2022 Volunteer of the Month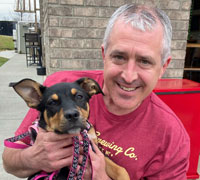 Matt O'Connor
Vice President, Operations
First Advantage
My role at PBSA:
I'm an active member of the Government Relations Committee and the Access Subcommittee. I enjoy working with others in the industry to address developing trends and to collaborate on the increasing challenges we all face with access to public record information.
Why I wanted to volunteer with PBSA:
I joined PBSA many years ago to develop working relationships with others who are passionate about what we do. I volunteer to engage on different initiatives in hopes that my knowledge and expertise will help lead to effective solutions for all of us.
What I do when not at work:
When I'm not at work I enjoy watching sports, pretending I can play golf, traveling with my wife, or spending time with our animals (2 dogs and a cat). I'm also a pretty hardcore craft beer fan, so I admittedly spend too much time at breweries.
What I'm reading:
In the interest of keeping it light I'm currently reading "Let Me off At the Top" by Ron Burgundy (Anchorman). I'm also a closet hippie so next up is "A Long Strange Trip (The Inside History of the Grateful Dead)".
Favorite website, podcast, blogs, etc.:
I'm not much for blogs, but on occasion I listen to Dax Shepard's Armchair Expert podcast. I also keep current on sports with a number of different websites.
On my desk right now (books, personal items, etc.):
A honeymoon picture of me and my wife in Hawaii, a rolled-up magazine to keep our new puppy in check when needed, countless legal pads scribbled with notes, and a "mosaic" picture of UMass, where I attended college.