July 2021 Volunteer of the Month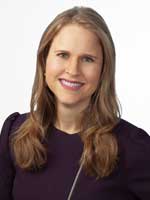 My role at PBSA is
I'm co-chair of the Industry Practices Committee (but Jamie Pelchat is responsible for all of the committee's success - she's a rock star!).
Why I wanted to volunteer with PBSA
I wanted to connect with others in the industry, learn more about stakeholders' needs, and give back to PBSA.
What I do when not at work
I volunteer at our local church, teaching toddlers and caring for infants in the nursery. (If I hadn't been a lawyer, I'd have been a teacher.) I go spinning several times a week and take weekend bike rides with my girls. I enjoy puzzles and games -- current favorites for our family game night are Monopoly, Seven Wonders, and Ticket to Ride.

What I'm reading
Reenchanting Humanity: A Theology of Mankind by Owen Strachan; The Slaughter: Mass Killings, Organ Harvesting and China's Secret Solution to its Dissident Problem; and My Grandfather's Son: A Memoir by Justice Clarence Thomas.
Favorite blogs
Volokh Conspiracy, Memeorandum, Instapundit, Inside Higher Ed, TechDirt, MIT Technology Review, The Gospel Coalition.
On my desk right now
On my desk right now (books, personal items, etc.) - family pictures; artwork by my girls; style, usage, and grammar books; a rainbow of PaperMate pens; sugar-free gum; and swag from PBSA and clients.