January 2019 Volunteer of the Month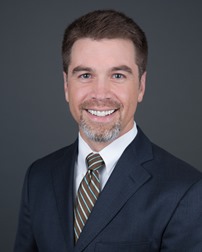 Todd Higey
General Counsel
Employment Screening Services - AL
My role at NAPBS is
I'm privileged to serve as chairperson of the PACER Taskforce, which is dedicated to enhancing the quality of federal criminal court records by advocating for the addition of personal identifiers to case files to enable the accurate and complete reporting of criminal history information on consumers.
Why I wanted to volunteer with NAPBS
To paraphrase my favorite U.S. president, it is always better to be a man (or woman) in the arena – to do and to strive for a worthy cause – than to observe from the seats.
What I do when not at work
Cycling – I'm proud to report I logged over 5,000 miles in 2018!
What I'm reading
Two books – The New Christian Zionism, by Dr. Gerald McDermott and SPQR, A History of Ancient Rome, by Mary Beard.
Favorite blogs
Does the opinion page of the Wall Street Journal count?
On my desk right now
A copy of Title 15 of the U.S. Code and a miniature statue of Teddy Roosevelt.