February 2021 Volunteer of the Month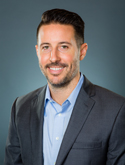 Bobby Shank
Director of Operations
Roundstone, Inc.
My role at PBSA is
Current co-chair to the Provider Advisory Group, member of the US Council Leadership, and member of the Government Relations Access and Accuracy Sub-committee.
Why I wanted to volunteer with PBSA
I decided to volunteer with PBSA to get more involved in our industry and give back to a great Association. Also, I wanted to get to know more of the business professionals in our industry, which has led to meeting some truly incredible people. Volunteering with PBSA has been one of the most impactful decisions of my career, and I cannot recommend it enough.
What I do when not at work
I love to do anything on the water, but especially surfing and fishing. I also really enjoy travelling internationally with my wife.
What I'm reading
My books look a little different right now, since my wife and I are expecting a baby boy this year. I am currently reading "Be Prepared: A Practical Handbook for New Dads".
Favorite blogs
I read a lot of surfing and travelling blogs to find new places to visit. I also really enjoy listening to comedy and sports podcasts.
On my desk right now
Currently there is coffee, a rocketbook notebook, sticky notes, a Rays bobblehead, and a picture of my wife and I.