February 2019 Volunteer of the Month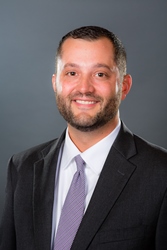 Kevin Horval
Assistant Research Manager
IntelliCorp Records, Inc.
My role at NAPBS is
Co-Chair of the Access Sub-committee with Kathleen Nottingham for the past year forming task forces to address court issues at the federal, state, and county levels when key pieces of criminal case information are not readily available for CRAs to produce background checks for end users trying to make informed hiring decisions.
Why I wanted to volunteer with NAPBS
I was encouraged by my co-worker, Chad Ascar, to join because he felt the Access Sub-committee would fit with my primary job function of working with courthouse researchers. I thought it was a good idea and I joined because I thought it was a good opportunity for me to learn and build relationships with other members of the association.
What I do when not at work
When I'm not at work I spend most of time with my wife and our soon to be 3 year old daughter doing everything a toddler enjoys doing. I also coach youth basketball which I've done for several years.
What I'm reading
I'm reading The Cat in The Hat and other toddler books.
Favorite blogs
Tony Robbins and I also enjoy the Born to Impact podcast with Joel Marion.
On my desk right now
Pictures of my 3 year old daughter and a pen holder she made for me.