February 2018 Volunteer of the Month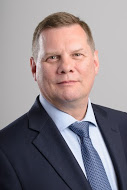 Michael Whittington
Director - Head of Employee Screening
The Risk Advisory Group
My role at NAPBS is
Europe Chapter Immediate Past Chair, member of Global Task Force and Global Advisory Council
Why I wanted to volunteer with NAPBS
This trade body and its army of international volunteers continually strives to raise the standards and professionalism of our chosen industry. I had little idea of what I was getting into when I signed up as a board member but am pleased to say I went from a passive passenger to a proactive volunteer and found it personally rewarding and enjoyable.
What I do when not at work
I have a young son who keeps me very busy most of the time. When I am not trying to be a great dad (and husband!) I try to play tennis.
What I'm reading
John Le Carre: Legacy of Spies
Favorite blogs
Never really had time for Blogs
On my desk right now (books, personal items, etc.)
A collection of day-to-day work-related items including; One computer (two screens), two iPhones, one Samsung Tablet, a notebook (the paper kind), two glass coasters, coffee cup (empty), stapler, calculator (does anyone use the calculator on their phone?) and various work-related documents, including the GDPR guidance for the European Chapter of the NAPBS.