August 2023 Volunteer of the Month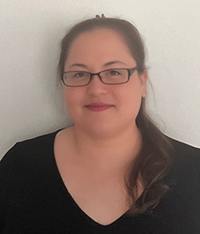 Robyn Kunz
Senior Director of Screening and Compliance for MRI Software
MRI Screening Solutions | Minneapolis
My role at PBSA:
Serving on the Government Relations Committee.
Why I wanted to volunteer with PBSA:
Because I'm passionate about advocating for the screening industry and the important work we do to keep communities and organizations safe!
What I do when not at work:
When I'm not at work I love traveling to visit family, playing games, cooking, and volunteering as an employment coach for people experiencing homelessness and/or returning to society post-incarceration.
What I'm reading:
I'm currently reading The Riders Come Out at Night: Brutality, Corruption, and Cover-up in Oakland.
On my desk right now (books, personal items, etc.):
On my desk you'll find personal mementos, a calming candle and plenty of evidence of my addiction to colorful pens and pencils.