August 2019 Volunteer of the Month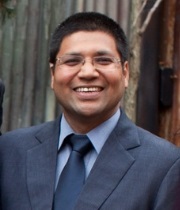 Sachin Aggarwal
Global Service Delivery Director
AMS Inform
My role at NAPBS is
I am Past Chair 2018 NAPBS APAC chapter.
Why I wanted to volunteer with NAPBS
In order to network with members of the same community and it also me an opportunity to give something back to the community with whom I have been tighly connected for last many many years. It also provides me opportunity to develop new skills and build on my existing knowldge and expereince.
What I do when not at work
I try to spend lot of time with my lovely twin daghters.
What I'm reading
I am reading AI related and upcoming new technology Blogs to keep myself updated with everychanging technology and also reading "Peppa Pig" series of books to my daughters in night as it seems it is the most happeing character in their lives.
Favorite blogs
techcrunch.com
On my desk right now
Pegga Pig - 5 books!