April 2021 Volunteer of the Month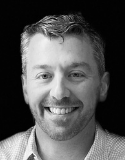 Andy Hellman
VP, Global Operations Business Development
Accurate
My role at PBSA is
My official roles are co-chair of the Educational Resources Committee and a member of the Finance Committee. My real role is trying to give back as much as I get out of the group.
Why I wanted to volunteer with PBSA
PBSA is a great organization, and after seeing all the hard work that so many people put into it, I felt like it was also my turn to contribute as well. I'd also give a special shout-out to Kerstin Bagus who got me involved in the first place and is definitely a PBSA role-model for me.
What I do when not at work
Wait, there is such a thing? Seriously, I like anything outdoors, preferably on the water. Doing it with my family is top of the list.
What I'm reading
Range, by David Epstein. It's an interesting take on the value of not being too much of a specialist in any one area.
Favorite blogs
I don't really read any specific blogs regularly, other than the miscellaneous privacy and compliance blogs to which I subscribe.
On my desk right now
I'm sure there's something, but it's buried beneath all the stacks of paper…