April 2020 Volunteer of the Month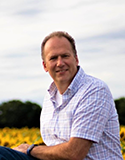 Mike Hovorka
My role at PBSA is
I am currently a member of the Access Subcommittee, Provider Advisory Group, and the Ethics Advisory Group.
Why I wanted to volunteer with PBSA
I wanted to give back to the PBSA for all the great conferences I have attended, the webinars I have seen, and the many, many experts who have shared their knowledge with myself and so many other members. I can recall my first couple of conferences where all I had to do was show up, the venue was booked, the speakers scheduled, the booklet of what is where and when was tucked nicely in a tote bag, what a great welcome for any new member. Being able to do something to help give back so someone else can have that same welcome experience to the PBSA has been great. Countless volunteers make up the association whether it be at conferences, board meetings, monthly speakers, etc. Being a volunter with the PBSA in one capacity or another is something I would recommend everyone do at least once.
What I do when not at work
Anything with the family - movies, bowling, an occasional trip to MOA or with warmer weather anything outside. Dancing....Ok just on occasion, I am currently learning a jazz routine with my youngest daughter for the daddy daughter dance.
What I'm reading
I am just starting "Never Split the Difference" by Chris Voss.
Favorite blogs
Shamelessly I have to say the Orange Tree Blog. Dewitt Ross & Stevens, and Seyfarth Shaw both have great content.
On my desk right now
Always some type of candy, usually peanut M&Ms, ping pong paddle (we have a table at the office), and the book I am starting.