April 2017 Volunteer of the Month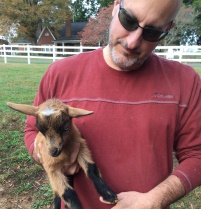 Dean Carras
V.P. & Chief Compliance Officer
Innovative Enterprises Inc.
My role at NAPBS is
Former Associate Board Representative and current member of the Finance Committee, Governance Advisory Group, and Conference Planning Task Force.
Why I wanted to volunteer with NAPBS
I volunteer in order to effect change in the profession. You can either drive the bus and determine the direction or you can go along for the ride and get off where they tell you.
What I do when not at work
I am always working. We have a Hobby Farm near Pinehurst, N.C. (Animals on a hobby farm are for looking at not eating). We have a mini Noah's Ark of animals and a few children that take up a bunch of time and lead to a ton of laughs.
What I'm reading
I read science fiction and murder mystery and typically burn through about three books a month.
Favorite blogs
I don't do blogs. I do like peat bogs as they tend to be near single malt scotch distilleries.
On my desk right now (books, personal items, etc.)
Currently on my desk are pictures of the family, a humidor with assorted cigars (goes good with single malt), Masonic / Shriner paraphernalia, Kindle, and coffee cup.