Europe Council Virtual Annual Conference 2021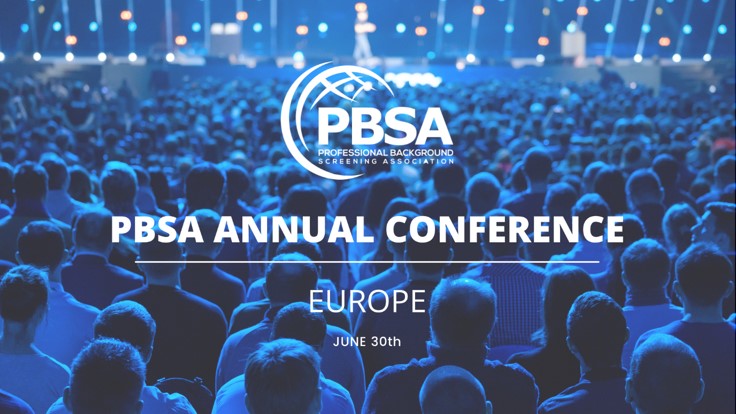 Wednesday 30th June 2021
2.00pm – 4.15pm (GMT)
Is your business ready? The new 'norm' in post COVID employment screening in Europe
Registration Closed-Check back for 2022 Updates
Delegates: PBSA members
As the background checking industry slowly emerges from the pandemic, the impact of the last year has meant that the way we work and deliver our services has undergone a seismic step change. Remote working, digitisation, elevated candidate/client expectations during the hiring process are areas where there has been an unprecedented and agile shift, resulting in new technology and upskilling of employees to adapt to our new world.
Our 2021 Annual Conference focuses on these critical areas, sharing 'must know' latest thinking on how we, as individual businesses and as an industry, embrace post pandemic opportunities and trends as they present themselves, and continue to evolve.
We are delighted to be joined by Michelle Leblond, PBSA's Chair and Melissa Sorenson, PBSA Executive Director who will share PBSA's strategy, what this means for us and how we can maximise benefit from our membership.
Agenda:
Time

Subject

Speaker

2.00 – 2.10pm

Intro to PBSA Council

Introducing PBSA Europe Council Members, led by Laura Rosianu, PBSA Europe Chair

2.10 – 2.30pm

PBSA – Today, Tomorrow, and You

Keynote Speakers:

Michelle Leblond, PBSA Chair

Melissa Sorenson, PBSA Executive Director

2.30 – 2.40pm

Questions and debate

Facilitator: Susie Thomson

2.40 – 3.00pm

The new world of digitised hiring in Europe - key implications and considerations for organisations

Harm Voogt – CEO of Validata

3.00 – 3.10pm

Questions and debate

Facilitator: Susie Thomson

3.10 – 3.20pm

Break

3.20 – 3.40pm

Future of digital identity within criminal record checks in England & Wales

Mark Sugden – Program Manager at Disclosure and Barring Service (DBS)

3.40 – 4.00pm

Hiring Post Covid using social media checks - aligning corporate values with those of pressure groups - #metoo, #blacklivesmatter

Martin Hardy – CEO of SP Index

4.00 – 4.10pm

Questions and debate

Facilitator: Susie Thomson

4.10 – 4.15pm

Chairperson Close

Laura Rosianu, PBSA Europe Chair