Sachin Aggarwal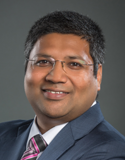 Sachin Aggarwal is an accomplished executive with over 25 years of experience in management consulting and operations across multiple industries (Manufacturing, Consulting, Financial Services and Technology) and geographies.
He is currently Director, Client Relationships at AMS Inform, one of India's leading background verification companies. Sachin leads AMS' efforts in new business, product development and online services while also being responsible for international operations. Sachin plays a key role in the global initiatives of AMS Inform and is responsible for the organizations presence in 140+ countries serving over 250 clients with local teams in 15 countries.
Sachin has been an active member of PBSA and has presented educational sessions at PBSA Annual Conferences on various occasions. In addition, Sachin has been actively involved with the APAC Council of PBSA and has served as Past Chair, APAC Council.
Prior to AMS Inform, Sachin was as Senior Consultant with IBM in the U.S., U.K. and India, working on end to end information technology solutions including business analysis, delivery, project management and operations for life cycle implementation, upgrade, enhancement and support for IBM's Fortune 500 customers in Oil & Energy.
Sachin earned his Bachelor's degree in Industrial Engineering from Bangalore University and is an MBA from Clarkson University, NY.