Sachin Aggarwal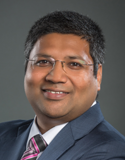 Sachin Aggarwal has over 20 years of experience in management consulting and operations across various industries and geographies.
He is the Director of Global Operations at AMS Inform, a leading background verification company in India. Sachin leads the company's efforts in new business, product development, and online services, while also being responsible for its international operations. He plays a significant role in the global initiatives of AMS Inform and has contributed to the company's presence in more than 140 countries and serving over 1000 clients.
Before joining AMS Inform, Sachin worked as a Senior Consultant with IBM in the US, UK, and India, where he worked on various technology solutions for IBM's Fortune 500 customers in the Oil & Energy industry. Sachin holds a Bachelor's degree in Industrial Engineering from Bangalore University and an MBA from Clarkson University, NY.
Sachin's specialties include advertising, automotive manufacturing, cosmetics, oil & gas, apparel, background screening, insurance claims investigations and business information reports.